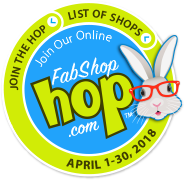 FABSHOP WINNERS:
Just add your code to
the NOTES section of
your order. We will
match it to the list sent
from FABSHOP, and deduct your winnings
from your total
BEFORE charging
your card. If you pay
with paypal, you will
receive a refund within
ONE business day.
EASY PEASY.
We have a Lucy Boston Tula Pink Modern club! EACH kit creates 6+ fussy cut paper pieced Lucy Boston blocks. Stunning.

Sign up today! First Kits shipped the week of March 1, 5 weeks, ends March 31. Learn a NEW skill: English paper piecing. Check out the blog for all kinds of tutorials...life with Lucy just got a little more exciting...


Try out an English paper piecing project at a special price with our Lucy Boston Weekender quilt kits: just like the name says - finish the quilt in one weekend, and open your sewing world into a whole new dimension...

While supplies last...


Thank you for exercising
your fabulously good taste
and visiting us at peggyannes.com.

-Peggy Anne

Office hours:
10-2 .Tuesday.Wednesday.Thursday
online shopping open 24 hours
$6.99 shipping on ANY size order!